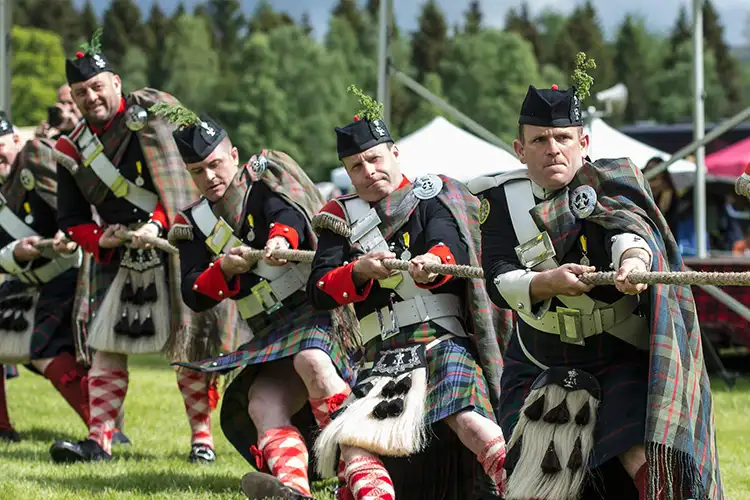 Annually, millions of people attend Highland Games in worldwide locations. Join the merrymaking and embrace Scottishness at a New England Highland Games in 2022!
Heavy Athletics Competition
Caber Toss
Athletes pick up the 20 foot long caber (log) weighing approximately 150 lbs and run before tossing the caber. Throws are judged on straightness. Highest score has the small end of the log facing away from the thrower at 12 o'clock angle.
Hammer Throw
A hammer is a metal ball attached to a wood or metal handle. For men, it either weighs 16 lbs or 22 lbs. For women it weighs 8 lbs or 12 lbs.
Athletes stand with their back toward the field and swing the hammer over their heads before twisting 180 degrees to throw it as far as they can. Athletes wears special boots with blades in the toe to make sure they stay fixed in place when throwing.
Stone Put
Athletes throw a stone weighing between 16- 18 lbs. for men and 8-12 lbs for women. Athletes stand behind a board known as a trig. They have 3 turns to throw the stone as far as they can.
Weight for Height
Athletes throw a 56 lb weight for men, a 28 lb weight for women, over a crossbar with one hand from a standing position. They have 3 attempts to get the weight over the bar. The bar continues to be raised during the competition until a final competitor throws the weight over the bar higher than all the other competitors.
Tug-of-War
Teams of 15 are pitted against each other in a contest of strength and tactics. The winning team pulls their opponent forward by 6' using the rope. There is often a team caller and sometimes the competition has a best of three.
Weight Throw
There are often two weight throw contest during a competition. One for light weight and one for heavy weight. The light weight is 28 lbs. for men and 14 lbs for women. The heavy weight is 56 lbs. for men and 16 lbs. for women. The weights are metal balls with a handle attached sometimes with a chain. The weight is thrown using one hand. Athletes are awarded 3 attempts to throw the weight the farthest.
Sheaf Toss
A bale of straw weighing 20 lbs for men and 12 lbs for women is tossed vertically with a pitchfork over a raised bar. As with weight for height, the bar continues to be raised during the contest until one person tosses his/her sheaf higher than all the others.
Hill Races
Kilted hill races are also often a part of many Highland Games.
Piping and Drumming Competitions
Many Highland Games host piping and drumming, both band and individual competitions. In New England, sanctioned competitions follow the rules of the Easter United States Pipe Band Association. The EUSPBA recognizes that music competitions provide a means of improving piping, drumming, and pipe band musical performances, and has established a set of rules and regulations. They aspire to assist individuals. EUSPBA sanctioning provides competitors a measure of uniformity in terms of rules, standards, and judging. The rules/policies can be seen here: http://euspba.org/rules-policies/
Highland Dance Competitions
Highland Dance competitions are often found at Highland Games. Like piping and drumming, there is a governing body that oversees and sanctions events while providing rules, standards and judging uniformity. The Scottish Official Board of Highland Dancing (SOBHD) and ScotDance USA oversees competitions in New England. Highland Dance Competition rules can be seen here: https://www.scotdanceusa.com/rules-and-regulations/
Common Highland Dances you may see are Highland Fling, Sword Dance, Seann Tribhas, Strathspey & Reel of Tulloch. As a dancer progresses, National dances are incorporated into their competitions.
Sheepdog Trials or Demonstrations
Competitions include dogs guiding sheep (or other livestock) through obstacles, moving them in and out of pens and separating a sheep from a flock of sheep. The judge evaluates the dog's work under the guidance of the handler.
Scottish Fiddle
Scottish Fiddle and it's sanctioned competitions are governed by Scottish F.I.R.E, Scottish Fiddling Revival, Ltd. It is the North American association for Scottish fiddling and all of its regional styles. Competition rules may be seen here.
Scottish Harp
The Scottish harp is also known as a clarsach. It dates back to the 8th and 9th centuries. Many Highland Games feature harp circle performances as well as competitions. The competitions are sanctioned by the Scottish Harp Society of America. Here is their handbook: https://www.shsa.org/competitions/rules/
Clan Villages
Highland Games often feature areas with individual tents or spaces for clans. Clan members have a chance to share their history, tartans and ask people to join their societies. Clan Village can be a great way to start a search for your Scottish genealogy.
Whisky Tastings
Most Highland Games offer a special ticketed whisky tasting with an expert leading a discussion on the process of making single malt Scotch whisky. This is a wonderful opportunity to sample a few whiskies you may not be familiar with and learn about the regional differences of whisky.
Scottish Breeds
You may find Highland cows (coos!), sheep and possibly even a dog parade with Scottish breeds like Cairn terriers, Scottish wolf hounds and Scotties at Highland Games.